Juvenalia: Writing by a younger, less sophisticated me. Read on, but remember that this belongs to the old world. 🥚
Women, Power and the State – Some Observations from Soviet Cinema (Normalised Absurdity)
The other week I stumbled on a trailer for the film Seven Sisters, which features an overpopulated dystopian future in which the birth rate is controlled with the heavy hand of an authoritarian state. Aside from being intrigued, my gender obsessed brain noted that in this future, the heavy hand of the state is personified in the intimidating female authoritarian figure played by Glenn Close. This image of an emotionless, utilitarian female leader of a dystopian society seems to be a mainstay of Western (or perhaps more accurately Anglo-American) cinema with films ranging from the likes of Children of Men to Divergent opting to include this kind of character in their narrative. And certainly, personal political opinions put aside, the image of a cold female bureaucrat certainly did not help Hillary Clinton last November. This picture of the dangers of collusion between women and the state perhaps a bit surprisingly hit very close to some of the themes that are prominent in my research material, Soviet comedies. This in mind, I wanted to take a moment to analyse this imagery of women with undue power from the state in the Soviet context to see whether I can find some parallels to more contemporary dystopian female despots.
Russian Roundup – July 2017 (Street Russian)
A one-month review of published life (Nicholas Kotar)
Exactly a month ago, I hit the publish button on a new phase in my authorly adventures. The Song of the Sirin was published. For those who are interested, I'll break down some of my expectations and results following the first month after I entered a new phase of being published. As can be expected, there have been some surprises, some high points, and some disappointments.
Military Acceptance Day (Russian Defense Policy)
On July 26, Defense Minister Sergey Shoygu presided over the latest "unified day of acceptance of military production." The review (mostly) covered the second quarter of 2017. According to Krasnaya zvezda, the Ministry of Defense received 600 new and 300 repaired weapons systems and other equipment.
Navalny and the Left (Sean's Russia Blog)
Yesterday, Jacobin published an article Ilya Budriatskis, Ilya Matveev, and I wrote on where the Russian left should stand in regard to Alexey Navalny. The Jacobin asked that I write it after reading my criticism of Alexey Sakhnin and Per Leander's article "Russia's Trump." I approached Budraitskis and Matveev if they wanted to collaborate since the "Navalny Question" is being much debated in Russian left circles, and because they, not me, are on the ground in Russia and have to deal with the political realities and challenges Navalny's movement presents. Also, I thought that leftists, particularly American leftists, would profit from hearing voices from Russia given the current toxicity between our two countries.
An Ordinary Conflict (Russian Defense Policy)
Some may have seen this picture of the aftermath of a massive brawl which occurred on August 2 between 60 Tuvan contractees and 100 soldiers at the Russian Army's 437th District Training Center (v/ch 31612). The incident says much about the Russian military effort to recruit large numbers of volunteers to serve as soldiers on contract.
Are Russia and America Headed for a Showdown? (The National Interest)
The author, director of the Center for the National Interest's intelligence program, writes that tensions between the U.S. and Russia are reaching a boiling point. In the U.S., a varied collection of government, military and intelligence officials "all view Russia as a common foe that has not paid a high enough price for its transgressions." In Russia, the optimism following Trump's election has given way to exasperation and now anger. "Each side has legitimate grievances against the other, but each also suffers from serious misperceptions of the other's intentions." The author argues that domestic pressure in Moscow and Washington will turn this normally manageable situation into one where exercising restraint will be difficult for both countries. Preventing escalation into military conflict would require expert diplomacy. The author notes that during the Cold War, it took the horror of the Cuban missile crisis to set both sides on a path toward a less volatile relationship. While the author notes that the situation may get worse before cooler heads prevail, he hopes such a crisis will not be necessary again.
U.S.-Russia relations six months into the Trump Administration (Brookings Institution)
The author, a senior fellow at the Brookings Institution, writes that dealing with Moscow will now again become the work of U.S. Secretary of State Rex Tillerson. Tillerson's strategy toward Moscow is to "push back when Moscow overreaches or commits aggressive acts, cooperate where interests converge and strengthen strategic stability." As such, the author recommends contacts between U.S. Defense Secretary Jim Mattis and his Russian counterpart, as well as channels of communication intended to avoid accidents in Europe. Additionally, the U.S. should work with the Normandy Format to end the conflict in Ukraine, while keeping in mind that this will require "that Moscow decide it wants a settlement." Continued discussion on Syria without great expectations and strategic stability talks are also necessary. The "idea of a cyber working group" should also be reived, but with a clearly defined purpose.
Реестр блогеров прекратил существование через три года после создания (TJournal)
Роскомнадзор прекратил ведение реестра блогеров после подписания президентом закона, запрещающего использование средств обхода блокировок. Ведомство отметило, что «пользователи сети, публикующие авторский контент, обязаны соблюдать требования иных законодательных актов, касающихся сбора, обработки и распространения информации».
Russia Signals Tough Pragmatism toward the United States (The National Interest)
How will Moscow respond as the United States takes a series of retaliatory steps meant to punish Russia for its misdeeds in American domestic politics, Ukraine and the Middle East? Conventional wisdom in Washington holds that Russian president Vladimir Putin is a bully playing a weak hand; when faced with the realities of U.S. economic pressure, military might and cyber ingenuity, he will back down. But the signals that Moscow is sending through both words and actions paint a different picture. Understanding them will be critical if we are to avoid a dangerous escalatory spiral of action and reaction with Russia.
Washington's Addictive Foreign Policy Drug (The American Conservative)
Congress has overwhelmingly passed legislation imposing new economic sanctions on North Korea, Russia and Iran. There was some speculation that President Trump might veto the measure, both because of concerns that it would prevent an improvement in America's troubled relations with Moscow and because of stringent limitations imposed on the president's ability to waive sanctions in the name of national security. However, the White House announced that the president would sign the bill—perhaps reflecting just how much proponents of a new cold war with Russia have intimidated the Trump team. The extent and virulence of anti-Russia sentiment has reached alarming levels. Members of Congress and other opinion leaders in both parties have branded the alleged Russian hacking of the 2016 election as an act of war, and one congressman even explicitly compared it to Pearl Harbor and 9-11.

Given such hysteria and the lopsided congressional vote in favor of the sanctions legislation, Trump's reluctance to use his veto power was not necessarily a manifestation of political cowardice. Only three House members and two senators (Rand Paul and Bernie Sanders) cast negative votes. Even Senator Mike Lee (R-Utah), who usually is sensible on foreign policy issues, joined the legislative lynch mob.
Smart Policy: How Should Russia Respond to US Sanctions? (Valdai Club)
The expulsion of over 700 US diplomats from Russia has become the first tough gesture in response to the recent adoption of the bill on sanctions by Congress. No doubt, Congress will thoroughly monitor its implementation. Russia will not limit itself to the expulsion of US diplomats and the seizing of diplomatic property either. Despite the huge gap in potential, Moscow is fairly capable of disrupting life for the US government from time to time even at the expense of its own interests. All this raises important questions: what do Washington and Moscow hope to achieve with their sanctions? Can sanctions produce the expected results in both capitals?
Tracking Russian propaganda in real time (Meduza)
So that's what Kevin Rothrock's doing these days! Most handshakable!
Гугл-переводчик работал уже в 1944-ом (RU-KLUKVA-RU) [image]
Big Books 1 & 2: Slapovsky and Pelevin (Lizok's Bookshelf)
It gives me no joy whatsoever to report that the first two Big Book finalists I'm done with weren't very satisfying. It gives me even less joy to say that this pair left me so indifferent that I couldn't bring myself to finish either one. I read most of Aleksei Slapovsky's Неизвестность, which I guess I'll continue calling Uncertainty, but could only get to page 41 of Viktor Pelevin's Лампа Мафусаила, или Крайняя битва чекистов с масонами (Methuselah's Lamp, or The Last Battle of the Chekists and Masons) before throwing in a frayed old towel. I know it's time to quit a book when I don't want to sit down to read.
The New Know-Nothings in Congress (The American Conservative)
A congressman once admitted to me that he and his colleagues know a lot of things, generally speaking, but their knowledge only "extends about one inch deep." In other words, the briefings provided by staffers and in committees is intended to touch only on what is important to know to look well informed in front of the C-SPAN cameras without any unnecessary depth that would only create confusion. And the information provided must generally conform to what the congressmen already believe to be true and want to hear so no one will be embarrassed.
5 crazy Russian expressions (Street Russian)
My friend Тимур is always forwarding interesting articles about the Russian language. He recently sent this article:

10 русских выражений, которые сводят с ума иностранцев! 10 Russian expressions that drive foreigners crazy!

Haha, crazy? After reading through them, I agree!

Here are 5 expressions that I really liked.
---
Ask J.T.: Funding
You guys are trying to pass a sanctions bill against Russia? Cool story; I'm going on a little fishing trip in the meantime
TIMING!!!
(Also, aren't you a bit old for this, Vladimir Vladimirovich?)
Side book #15
This week, I began Creating Character Arcs: The Masterful Author's Guide to Uniting Story Structure and Character Development by K.M. Weiland.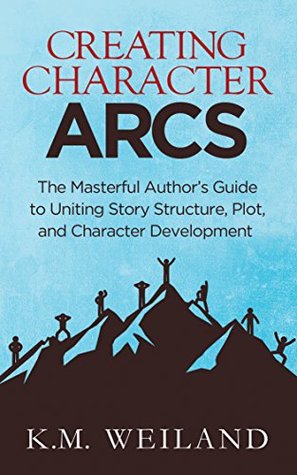 Your character is incomplete on the inside. He is harboring some deeply held misconception about either himself, the world, or probably both. As you'll see in the next chapter, this misconception is going to prove a direct obstacle to his ability to fulfill his plot goal. In some instances, it may start out seeming to be a strength, but as the story progresses, it will become his Achilles heel.
And a quick language question
Is there an official Russian verb for "blog"? I've been using the made-up блогировать or писать блог to describe what I do.